Rainier Beach Townhomes
Open, flexible, and green Pacific Northwest living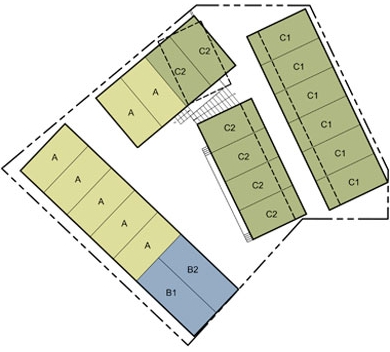 In the park-like setting adjacent to the Chief Sealth Trail and a short walk to light rail, this twenty-one-unit town home community is clustered around an intimate courtyard garden. Upper levels of each family-sized home provides privacy and views out to the garden, while flexible, open plans are easily adaptable to the changing needs of residents. Exterior finish materials and colors are thoughtfully integrated to give each home a sense of the seasonal changes of the Pacific Northwest: warm and cozy in the winter, bright and airy in the summer.
Designed in 2007, and prior to completion of the now-open light-rail train station, the location provides for a pedestrian-oriented design that includes a common courtyard with a children's play area and outdoor seating. Green strategies include vertical landscape trellises, native vegetation, a rain garden, and abundant natural daylight.
Project Information
LOCATION
Seattle, WA (Rainier Beach)
PROJECT TYPE
Multi-Family Housing
COMPLETED
In Design
Anticipated Completion 2020
SIZE
21 units
SCOPE
Full Design Services
PROJECT TEAM
Schemata Workshop (Architect)